Inspiration & Advice
How to build a super easy privacy screen
How to build a super easy privacy screen
Whether you want to hide your bins, block out neighbours, or create strategic shade, garden privacy screens are a great idea. And they're not as hard as they look. When you build one with Jack, you can have one up in an afternoon!
Not only are privacy screens multi-functional and simple to install when you use our Screen Up Systems, but they're more cost-effective than a full wall or fence.
Privacy screens are also low maintenance and can enhance your outdoor aesthetic. They even allow air through the gaps, so you don't lose those cool breezes during hot summers!
But instead of banging on about the benefits, let's get to work and start banging in those posts and slats. Go on, give it a go!
What you'll need
Before you get to work on your privacy screen, there are a few things you need to buy and grab first. Make sure you have them all at hand.
Suggested Jack products
Additional materials needed for this project:
Timber of choice - we used Merbau timber slats
Screwdriver & Button-head (pan-head) Screws
Spirit level, measuring tape & hammer
Quick set concrete
Circular saw
Drill and drill bits
String line
Timber oil, stain or paint
Paintbrushes
PPE (safety glasses and ear protectors)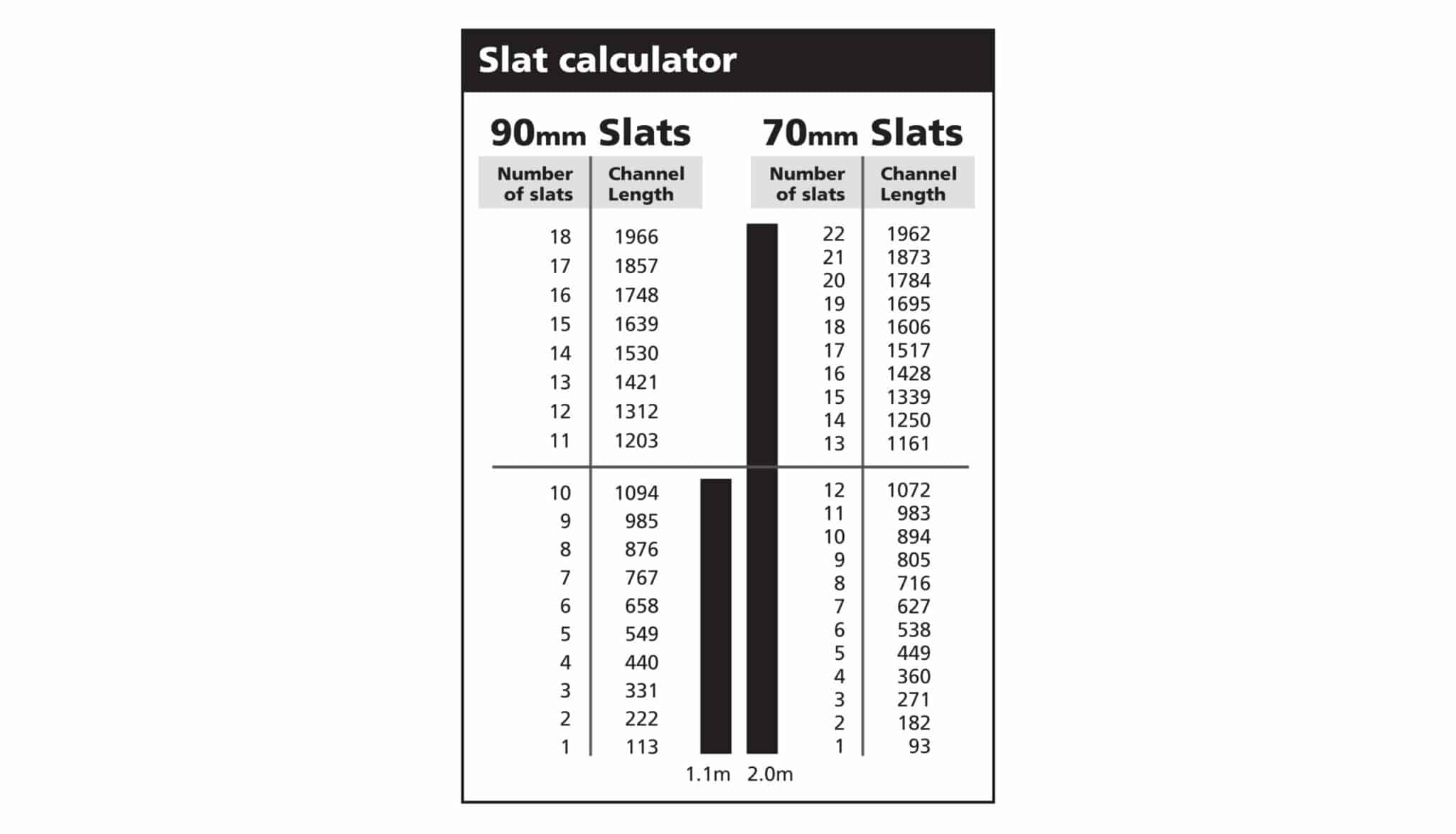 Before you get started
Plan and mark the position of your screen. Then measure the distance between posts and check heights to see what materials you need.
Products
For wall-mounted screens, you can use Screen Up Side-Fix Channels when running them across the face of a wall, fence or post.
Screen Up Rear-Fix Channels go between walls or posts. Screen Up Freestanding can be put anywhere you can create a firm footing.
Timber slats – width
Typically, you'll need 18 slats at 90mm wide or 22 slats at 70mm wide. Use the table below to work it out based on the standard spacers (supplied in the pack).
Timber slats – length
2000mm slat length or distance between posts is ideal. Longer slats are okay, but consider using a centre brace to reduce twisting and warping.
Ask your local timber supplier what species of wood, width and length they recommend. We've used Merbau. To note, Screen Up freestanding channels have slat depths of 19mm.
Screen Up wall channels suit slat depths of 16mm or 19mm.
Handy Jack tip!
The standard spacers supplied with the channels are 20mm high. Use 10mm spacers to create smaller gaps between slats for extra privacy.
Your step-by-step guide
Step 1 – Assemble your posts

Set up a string line from the wall or structure, then measure and mark your screen post positions.

To install freestanding channels to a concrete or timber base: Use the Screen Up base plate. Mark and drill four anchor holes – see the fastener positions shown below – and secure with suitable bolts or screws.

If you're pouring a concrete base, use an anchor plate embedded into the concrete instead of the base plate, and start digging those holes!

To install wall channels: Pre-drill through the marked holes and screw-fix using button head screws. Button heads have a shallow head that won't snag on the slats when installed. Position the 'L' bracket at the bottom hole and screw into place.

Pour your quick-set concrete into the holes and sink your anchor plates into place. You should only have to wait about 30 mins for it to dry. Use a level to ensure the anchor plate is straight before the concrete dries.

Once the base or anchor plate is set in place, slide the post into position and check levels, then secure your posts with the provided screws.

Step 2 – Prepare your slats

Measure and cut your timber slats to fit snugly between your slats. Then prepare them (before you install them) using your favourite oil, stain or paint. Go for a classic wood look, or add a splash of colour to your outdoor space!

Step 3 – Assemble your screen

Begin with your spacer, add your first timber slat, then another spacer – and repeat until your posts are filled.

For wall-mounted channels: Don't forget to insert the bottom cap and finish with the top end cap.

For freestanding channels: Remove the top cap, screw-fix your lock-in brackets to your top slats using your drill and screws and replace the top cap.

Finally, if you need to brace your slats, fix the brace in place with 15mm button head screws.

Great job! With Jack, building privacy screens is a dream!