Screen Up Privacy Screens
Screen Up® FS Spacers & Caps
Slimline 10mm spacers for that slimline look
Standard 20mm spacers (as supplied with posts)
Freestanding cap kit
Available in Australia only
Product Details
SLIMLINE OR STANDARD – THE CHOICE IS YOURS
Jack Screen Up spacers are available in two styles to give you the look you want:
Slimline Spacers provide a 10mm space between slats for that slimline look and greater privacy.
Standard 20mm spacers are ideal for larger screens and are supplied with all Freestanding Posts (note that sufficient 20mm spacers are supplied with each post, however, there may be rare instances where installation requires additional spacers).
These are suitable for Freestanding Channels (corner and joiner posts).
REPLACEMENT CAP KITS
Jack Screen Up Freestanding Post Cap Kits are available for either Joiner or Corner Posts. Each kit contains two Post Caps and two/three Lock-in Brackets.
16866 – Corner post cap kit (cap dimension is 79x79x20mm)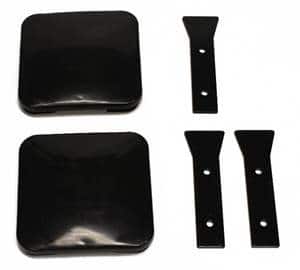 Specifications
Item
Product Code
Pack Qty
Size (mm)
Colour
Country Availability

Freestanding Standard Spacers

16862
24
20
Black
Australia Only

Freestanding Slimline Spacers

16870
48
10
Black
Australia Only

Freestanding Corner Post Cap Kit*
*contains 2 caps and 3 brackets

16866
2
-
Black
Australia Only

Freestanding Joiner Post Cap Kit*
*contains 2 caps and 2 brackets

16865
2
-
Black
Australia Only